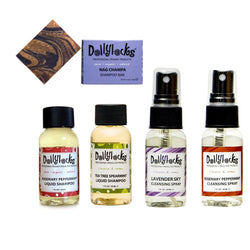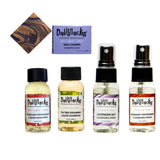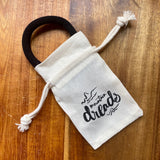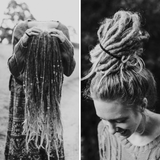 Mountain Dreads
Dollylocks Cleansing Travel Size Sampler Set
 Try Dollylocks Cleansing products in 5 divine scents.
Travel Size Care Set includes:
5 x 1oz (30ml) Bottles + a Free Stretchy Dread Tie


Liquid Shampoo 

Tea Tree Spearmint & Rosemary Peppermint

Your dreadlocks will love our residue-free, pH-balanced Liquid Shampoo formulated with Pure Botanicals and Organic Coconut to leave your dreadlocks refreshed, clarified, and squeaky clean!


Shampoo Bar Nag Champa

A rich and invigorating natural shampoo bar made with pure botanicals and organic ingredients. Weightless and residue free leaving your scalp feeling refreshed and dreadlocks squeaky clean. Hypoallergenic and pH-balanced for gentle yet effective cleansing, with an exotic earthy scent that will awaken and lift your spirits! 

Cleansing Spray Lavender Sky & Rosemary Peppermint

Experience cleanliness without the hassle of washing with water! Cleanse and remove excess oil from the scalp to extend time between regular washing. Save time and stay dry!