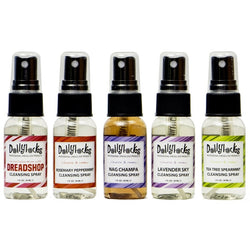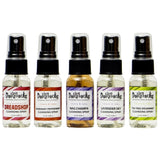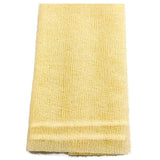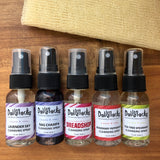 Mountain Dreads
Dollylocks Cleansing Spray Travel Size Sampler Set
Sample Set of 5
Try five scents of Dollylocks Cleansing Spray! + Free Exfoliating Cloth
Experience cleanliness without the hassle of washing with water! Cleanse and remove excess oil from the scalp to extend time between regular washing.
Save time and stay dry!

5 x 1oz (29ml) Bottles
1 x Free Dollylocks Exfoliating cloth
Includes

1oz Lavender Sky Cleansing Spray
1oz Nag Champa Cleansing Spray
1oz Rosemary Peppermint Cleansing Spray
1oz Tea Tree Spearmint Cleansing Spray
1oz Dreadshop Cleansing Spray
To Use: Shake well. Spray directly onto scalp between dreadlocks. Allow a few minutes to penetrate. Use a damp cloth to remove excess product, oil, and buildup. An exfoliating towel can be used for scalp buildup. Alternately can be sprayed on scalp while washing length of hair with Liquid Shampoo then rinse thoroughly.

Suitable for Vegans
Cleansing Spray Ingredients:
Lavender Sky Ingredients:

 

Aqua (Water/Eau), Polysorbate 20, Olea Europaea (Olive) Fruit Oil, Sodium Hydroxide, Cocos Nucifera (Coconut) Oil*, Ricinus Communis (Castor) Seed Oil*, Prunus Amygdalus Dulcis (Sweet Almond) Oil, Citrus Grandis (Grapefruit) Seed Extract*, Parfum/Fragrance, Citrus Aurantifolia (Lime) Oil, Mentha Piperita (Peppermint) Leaf Oil.

Nag Champa Ingredients:

 

Aqua (Water/Eau), Polysorbate 20, Olea Europaea (Olive) Fruit Oil, Sodium Hydroxide, Cocos Nucifera (Coconut) Oil*, Ricinus Communis (Castor) Seed Oil*, Prunus Amygdalus Dulcis (Sweet Almond) Oil, Parfum/Fragrance, Citrus Grandis (Grapefruit) Seed Extract*.

Rosemary Peppermint Ingredients:

 

Aqua (Water/Eau), Polysorbate 20, Olea Europaea (Olive) Fruit Oil, Sodium Hydroxide, Cocos Nucifera (Coconut) Oil*, Ricinus Communis (Castor) Seed Oil*, Prunus Amygdalus Dulcis (Sweet Almond) Oil, Citrus Grandis (Grapefruit) Seed Extract*, Rosmarinus Officinalis (Rosemary) Leaf Oil, Mentha Piperita (Peppermint) Leaf Oil.

Tea Tree Spearmint Ingredients:

 

Aqua (Water/Eau), Polysorbate 20, Olea Europaea (Olive) Fruit Oil, Sodium Hydroxide, Cocos Nucifera (Coconut) Oil*, Ricinus Communis (Castor) Seed Oil*, Prunus Amygdalus Dulcis (Sweet Almond) Oil, Melaleuca Alternifolia (Tea Tree) Leaf Oil, Citrus Grandis (Grapefruit) Seed Extract*, Mentha Viridis (Spearmint) Leaf Oil.

Dreadshop Ingredients:

 

Aqua (Water/Eau), Polysorbate 20, Olea Europaea (Olive) Fruit Oil, Sodium Hydroxide, Cocos Nucifera (Coconut) Oil*, Ricinus Communis (Castor) Seed Oil*, Prunus Amygdalus Dulcis (Sweet Almond) Oil, Rosmarinus Officinalis (Rosemary) Leaf Oil, Citrus Grandis (Grapefruit) Seed Extract*, Mentha Viridis (Spearmint) Leaf Oil, Cymbopogon Flexuosus (Lemongrass) Herb Oil.

*Derived from organic sources