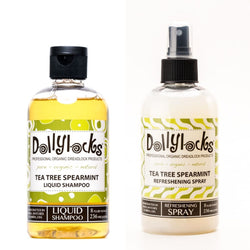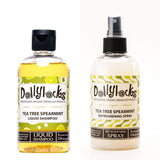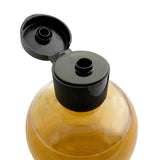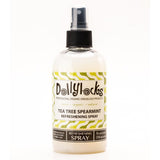 Mountain Dreads
Dollylocks Tea Tree Spearmint Shampoo + Refreshing Spray
Liquid Shampoo + Refreshing Spray Bundle
Unique minty blend
2 x 8oz (236ml) 
pure ~ organic ~ natural
A rich and stimulating Organic Shampoo made with Pure Botanicals and Organic Coconut. Weightless and Residue Free, leaving your scalp feeling refreshed and dreadlocks squeaky clean! Hypoallergenic and pH-balanced for gentle but effective cleansing. Invigorating Essential Oils that will awaken and lift your spirits!
Lightly moisturising and very refreshing! A perfect blend of Organic Coconut Water, Pure Plant Extracts, Organic and Essential Oils. These stimulating ingredients are combined for a perfect "in-between shampooing" spray. Designed to stimulate scalp, hydrate dreadlocks and awaken your senses! Perfect for itchy, flaky scalps - this will leave your scalp and dreadlocks feeling clean, fresh and very happy!

Refreshing Spray Ingredients: Water, Coconut Water*, Polysorbate 20, Tea Tree Essential Oil, Spearmint Essential Oil, Avocado Oil*, Grapefruit Seed Extract, Hemp Seed Oil*, Jojoba Oil* - *ORGANIC
To Use:
 Shake well. Spray on to scalp and dreadlocks, wet or dry. Use daily, weekly or as often as you would like!
Shampoo Ingredients: Filtered Water; Saponified Coconut Oil*, Olive Oil, Castor Bean Oil*, and Almond Oil*; Tea Tree Essential Oil*; Spearmint Essential Oil; Grapefruit Seed Extract - *ORGANIC
To Use:
 Wet hair. Massage shampoo into scalp, then work shampoo into dreadlocks, from roots to ends; squeezing dreadlocks to help remove any debris or buildup. Rinse and repeat 1-3 times; as needed.