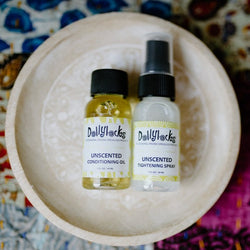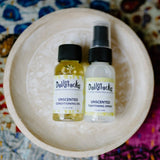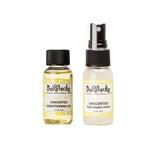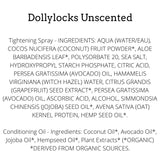 Mountain Dreads
Dollylocks Unscented Travel Size Sampler Set of 2
Dollylocks Unscented Sampler Set of 2

Tightening Spray & Conditioning Oil
2 x 1oz (29ml) Bottles

Suitable for Vegans
Tightening Spray - A unique blend of moisture balancing and soothing organic ingredients makes this "all in one" dreadlock tightening spray a must have!
Coconut Water, Hawaiian Sea Salt, Vitamins, Essential Oils, and Plant Extracts all blended together - designed to tighten dreadlocks, strengthen hair, nourish scalp and prevent dandruff!
Reduce the amount of loose frizzy hair, while increasing scalp hydration and refreshing hair/dreadlocks. This product is water soluble and residue free, meaning it will fully wash out when you shampoo your hair, leaving behind squeaky clean dreadlocks!
Conditioning Oil - Revitalise and repair your dreadlocks and scalp with this unique blend of Plant Extracts, Organic and Essential Oils. Non-greasy and non-comedogenic - won't clog pores. The oils in this blend are the closest to our own natural oil (sebum), making it easily absorbed while helping to balance moisture and protect hair and scalp.