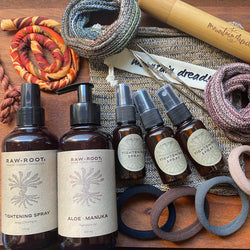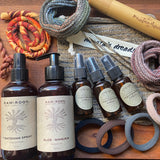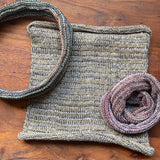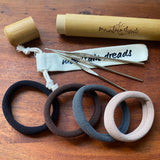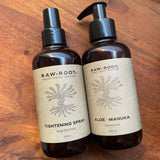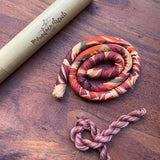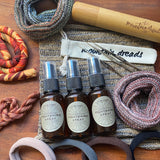 Mountain Dreads
OOAK Raw Roots Tightening Dread Care Pack
Raw Roots Tightening Dread Care Pack
2 x 0.6mm , 1 x 0.75mm  Crochet hook | Set of 3 | in Bamboo Tube
1 x Cotton Headband - Warm Sand
1 x Cotton Dread Tie - Woodland, Dunes. 
1 x 50cm Vegan Spiralock - Autumn Leaves 
1 x 10 metre hand- dyed Cotton Thread for DIY Dread Wrap - Russet
4 x Stretchy Dread Ties - Mixed 
1 x 200ml Raw Roots Aloe Manuka Tightening Gel
1 x 200ml Raw Roots Tightening Spray: Nag Champa - Floral, warm and earthy scent like the well-known incense.
3 x 30ml Raw Roots Tightening Spray Travel size
Summer Moon - Sweet, fruity and exotic with a hint of flowers.
Herbal Breeze - Refreshing and uplifting scent of peppermint, sage, tea tree and cedar.
Enchanted Forest - Like a walk in the deep forest with essential oils of patchouli, cedar and sandalwood.
Tightening spray is combined with a unique blend of organic ingredients that provide moisture, texture and tighten dreadlocks while leaving a great scent in the hair. Dreadlock Tightening Spray is a 'must have' and can be used for the manufacture or maintenance of dreadlocks.