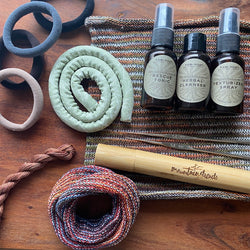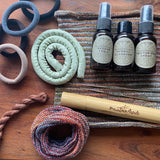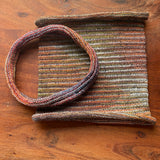 Mountain Dreads
OOAK Raw Roots Dread Care Pack
Raw Roots Dread Care Pack
2 x 0.6mm Crochet Hooks in Bamboo Tube
1 x Rolled Cotton Headband - Earthy
1 x Cotton Dread Tie - Ocean Sunset
1 x Hand-dyed Cotton Thread For DIY Dread Wrap - Russet
1 x 50cm Vegan Spiralock - Sage
3 x 30ml Raw Roots Samplers Travel size
Rescue Tonic - helps troubled skin and scalp by cooling, soothing, and moisturising exposed areas.
⭐️⭐️⭐️⭐️⭐️  "The spray is really relieving and works perfect for when you have an itchy scalp"
Herbal Cleanser - Sulfate free shampoo for normal and oily scalp/hair.

⭐️⭐️⭐️⭐️⭐️ "Used this the other day on my partners dreads and I have to say it is awesome. His dreads looked and felt cleaner and it smells yum too."
Texturizer Spray - is a hair texturizer and sea salt spray for dreadlocks. Particularly great for young dreadlocks to help them tighten.
⭐️⭐️⭐️⭐️⭐️  "Perfect to maintain and tighten my new dreads. It helps to remove all the frizziness."