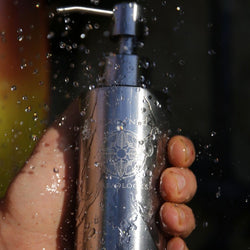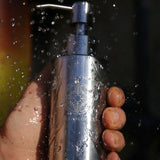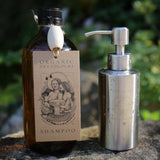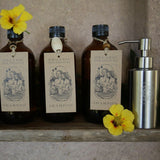 Mountain Dreads
Organic Dreadlocks Shampoo in Reusable Stainless Steel Pump Bottle
Organic Dreadlocks reusable pump application bottle.
250ml Shampoo

Our beautifully engraved, high quality stainless steal bottle and pump head is designed as a refillable, re-usable, travel-easy shampoo dispenser. A safer, streamlined, durable container to store your shampoo in.
Purchase full of Organic Dreadlocks Shampoo

Reusable - simply take a glass bottle of Organic Dreadlocks Shampoo and fill it just below the top. Use the pump spout to effectively squirt the shampoo directly onto the scalp between dreadlocks.  
Organic Dreadlocks, offers you a beautifully mild shampoo especially for dreadheads. Uplifts the senses, cleanses and nurtures the scalp, helps reduce dandruff and may repel nits.
Made in Australia
Suitable for Vegans
It's especially designed for keeping dreads strong, healthy and lustrous and contains no salt or other drying elements that might make the hair brittle. Yet, at the same time it assists the locking process. Its FULL of pure essential oils to nourish and cleanse the scalp and it smells beautifully fresh and uplifting while remaining low residue (so that no oils or other ingredients build up within the dread).