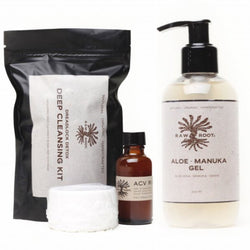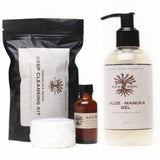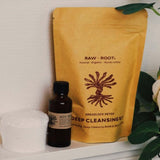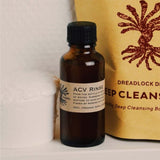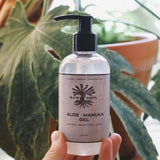 Mountain Dreads
Raw Roots Deep Cleansing Kit + Aloe Manuka Gel
Dreadlock Detox + Aloe Manuka Gel Bundle
Save 10%
200ml Aloe Manuka Gel
Deep Cleansing Kit
With the Raw Roots Deep Cleansing Kit, you will get the 2 best-known products for keeping hair and dreadlocks clean, completely natural and without shampoo.
Over time, dirt, impurities and product residue will build up inside the dreadlocks and the trick with deep cleansing with baking soda and ACV (apple cider vinegar) is an old known method for hair and especially dreadlocks.
Raw Roots Deep Cleansing Kit contains:
1. A Cleansing bomb is made of Sodium Bicarbonate, Organic Witch Hazel Water, Organic Rosemary Oil, Organic Tea tree oil and Citric acid.
Baking Soda and Witch Hazel water remove impurities and residue on the hair.
And essential oils of Tea tree which have antiseptic and fungicidal properties and Rosemary which is containing antioxidants that can help control dandruff and scalp problems.
2. ACV (Apple cider vinegar), Pure and Organic.
Without fragrance and preservatives.
ACV closes the cuticle on the hair and ph neutralise the hair and scalp.
The hair becomes shiny, soft and will dry faster.
Aloe Manuka Gel is luxurious gel for frizzy hair, curl and dreadlocks.

Certified organic aloe vera provides a firm hold and together with Manuka the hair is nourished and kept healthy.
Organic essential oils work antibacterial and provide a fresh smell of sweet lavender and fresh grapefruit.
 Organic Aloe vera is the main ingredient of our Aloe Manuka Gel and its content equals 80%.
Aloe and Manuka relieve itching, helps control dandruff, heal wounds and irritated skin.
How to use Aloe Manuka Gel:
After washing and towel-drying, apply a quantity equivalent to a pea between your palms and add to your hair or roll it into your dreadlocks.
Take 1-2 dreadlocks at a time so you are sure it will be distributed evenly.
Let your hair air dry or use a hair dryer on "Low" to not dry out or burn your hair.
Aloe Manuka Gel ingredients:
Water

Aloe Vera*

Manuka hydrolat*

Cane Sugar*

Carraghén Seaweed

Grape Oil*

Lavender Oil*

Sodium benzoate

Limonene**

Linalool**

Citral**
*Organic
**Content of essential Oil 
How to use the Deep Cleansing Kit!
Step 1. - How to use Deep Cleansing Bomb.
Fill a basin with warm water and drop the Cleansing Bomb in.
Choose a basin big enough so the hair or dreadlocks can be completely submerged in the solution.
Once the solution is smooth and clumpless, completely submerge your hair into the basin and let soak for at least 5 minutes. 
Squeeze out impurities and buildups and rinse well with water.
Step 2: How to use ACV Rinse.
Empty basin and pour the Apple Cider Vinegar in.
If you want to add scent you can add 10 drops of tea tree oil, 20 drops of rosemary essential oil, 20 drops of lavender essential oil.
Add hot water until full.
Let soak 3-5 minutes.
Rinse well.
Ingredients (INCI): 
Sodium Bicarbonate
Citric Acid
Hamamelis Virginiana Flower (Witch Hazel) Water*
Rosmarinus Officinalis Leaf (Rosemary) Oil*
Melaleuca Alternifolia Leaf (Tea tree) Oil*
Limonene**
Linalool**.
And (Appel Cider) Vinegar*.
* Organic ingredient.
** Content of essential oil.