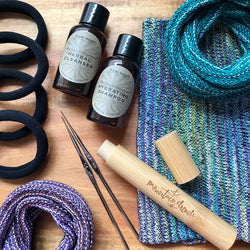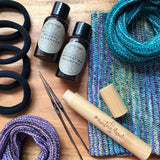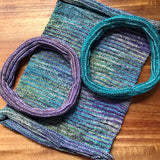 Mountain Dreads
Raw Roots Shampoo Dread Care Pack
Raw Roots Dread Care Pack
1 x Wide Cotton Headband 
2 x Cotton Dread Tie - Aquamarine, Purple Haze
4 x Stretchy Dread Ties - Black
2 x 0.6mm Crochet Hook Dread Tools in Bamboo Tube
2 x Raw Roots Travel Size Liquid Shampoo

30ml Hydrating Shampoo
All Raw Roots products are free of harmful chemicals. Their products are based exclusively on natural, vegan and pure ingredients.

✿ Hydrating Shampoo - Sulfate free shampoo for dry and sensitive scalp/hair.

⭐️⭐️⭐️⭐️⭐️ "My dreads and scalp have suffered so long with intense dry dandruff flaking and flaking no matter what I do. I never had any scalp problems before getting dreadlocks. I have not had an issue since buying that shampoo. It fixed my scalp ph instantly, I love washing my hair with it. Even my sister who has aggressive scalp psoriasis found relief with this natural shampoo." - Peru L.

✿ Herbal Cleanser - Sulfate free shampoo for normal and oily scalp/hair.

⭐️⭐️⭐️⭐️⭐️ "Used this the other day on my partners dreads and I have to say it is awesome. His dreads looked and felt cleaner and it smells yum too."