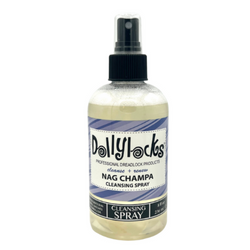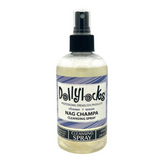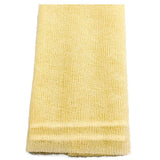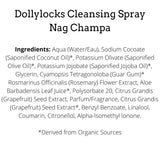 Mountain Dreads
Dollylocks Cleansing Spray | Nag Champa
Save time and stay dry!
Warm, floral, and earthy exotic Nag Champa scent based on the beloved incense fragrance.
pure ~ organic ~ natural

8oz (236ml)
Experience cleanliness without the hassle of washing with water! Cleanse and remove excess oil from the scalp to extend time between regular washing.
Suitable for Vegans
To Use:
 Shake well. Spray directly onto scalp between dreadlocks. Allow a few minutes to penetrate. Use a damp cloth to remove excess product, oil, and buildup. An
exfoliating towel
can be used for scalp buildup. Alternately can be sprayed on scalp while washing length of hair with Liquid Shampoo then rinse thoroughly.
Optional add on: Dollylocks Exfoliating Cloth is made of a lightweight, textured nylon fabric designed to help exfoliate the skin and scalp. Use in conjunction with Dollylocks Cleansing Spray to break down stubborn scalp build-up.


Features:

Easy to use on scalp and body
Made of 60% Nylon, 40% Polyester
Dimensions: approx. 12" x 36" (30cm x 90cm)
Air dries quickly, machine washable

Care Instructions:
Rinse under running water, wring, and hang dry. Machine wash and dry with regular use.