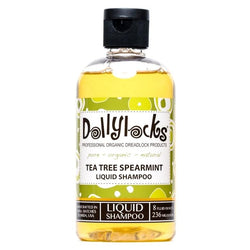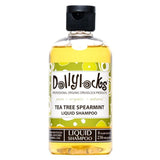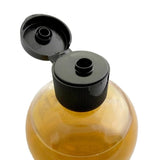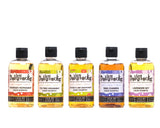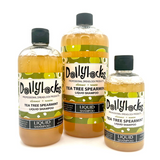 Mountain Dreads
Dollylocks Shampoo | Tea Tree Spearmint
Unique minty blend
Tea Tree Spearmint is all essential oil based blend combining the uniqueness of herbal tea tree and stimulating spearmint.
Liquid Shampoo - New Formula - Nut Free
8oz (236ml) 
Flip style cap
A rich and stimulating Organic Shampoo made with Pure Botanicals and Organic Coconut. Weightless and Residue Free, leaving your scalp feeling refreshed and dreadlocks squeaky clean! Hypoallergenic and pH-balanced for gentle but effective cleansing. Invigorating Essential Oils that will awaken and lift your spirits!
To Use: Wet hair. Massage shampoo into scalp, then work shampoo into dreadlocks, from roots to ends; squeezing dreadlocks to help remove any debris or buildup. Rinse and repeat 1-3 times; as needed.