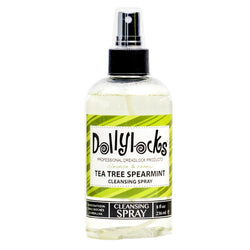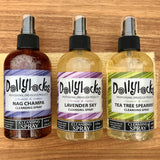 Mountain Dreads
Dollylocks Cleansing Spray | Tea Tree Spearmint
Save time and stay dry!
Tea Tree Spearmint is all essential oil based blend combining the uniqueness of herbal tea tree and stimulating spearmint.
pure ~ organic ~ natural

8oz (236ml)
Experience cleanliness without the hassle of washing with water! Cleanse and remove excess oil from the scalp to extend time between regular washing.
To Use:
 Shake well. Spray directly onto scalp between dreadlocks. Allow a few minutes to penetrate. Use a damp cloth to remove excess product, oil, and buildup. An
exfoliating towel
can be used for scalp buildup.
Alternately can be sprayed on scalp while washing length of hair with Liquid Shampoo then rinse thoroughly.