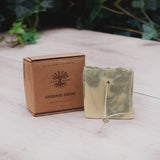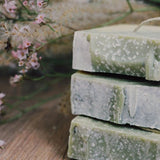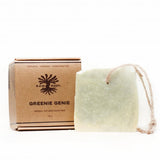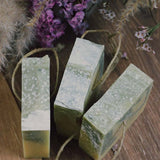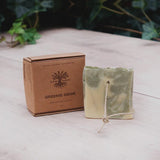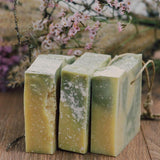 Mountain Dreads
Raw Roots Shampoo Bar - Greenie Genie
Natural Organic Handcrafted
Greenie Genie Soap Bar is based on green organic herbals and vegetable oils.
It has a soft creamy foam and will cleanse and nourishes scalp, hair and dreadlocks.
Greenie genie contains Himalayan salt which provides the scalp and skin with minerals and ads volume and texture to fine or dreaded hair.
Hemp seed, Neem oil and Nettle extract strengthens the hair and scalp while it actively helps against dandruff and other scalp problems. 
The organic essential oils of tea tree, peppermint and lemongrass refreshes, stimulate the scalp and works purifying, antiseptic, antipruritic and cooling.
Your hair will feel clean and enhanced with an invigorating fresh scent.
This shampoo bar is handmade of organic vegetable and natural ingredients for the care of normal-oily hair and problematic scalps.
Can also be used if you do not have dreadlocks and on the rest of the body.
Recommendation:
Use an ACV Rinse after washing with a Shampoo bar.
It will ph neutralise the scalp and reduces residue on the hair.
Extend the life of your Shampoo bar with our Air Dry Magnetic Soap Saver - Add to cart separately
Greenie Genie Soap Bar ingredients:
Coconut Oil*

Olive Oil*

Castor Oil*

Hemp Seed Oil*

Neem Oil*

Himalaya salt

Apple Cider*

Nettle extract*

Green Clay

Tea tree Oil*

Peppermint Oil*

Lemongrass Oil*

 
* = Organic ingredients.