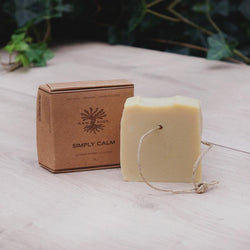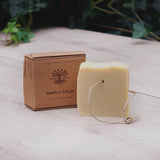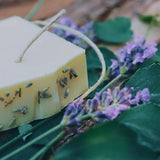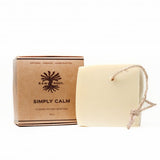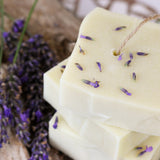 Mountain Dreads
Raw Roots Shampoo Bar - Simply Calm
Natural ≫ Organic ≫ Handcrafted
RAW ROOTs Simply Calm Soap Bar is a mild shampoo made from organic ingredients.
Based on organic extracts of Chamomile, Calendula and lavender in saponified coconut, olive and avocado oil.
Without added scent!
Simply Calm Dreadlock Soap Bar is a mild soap bar made from organic ingredients that cleanse and nourish your hair and skin.
The soap bar is 100% natural and plant-based.

All ingredients are free of harmful substances like Parabens and SLS, as well as PEG (Polyethylene glycol), palm oil and preservatives.
This soap is not added any scent, but you do not get beyond the smell of a clean and natural soap.
It is based on organic flower extracts from chamomile, calendula and lavender that has soothing effect.
The organic and vegetable oils from Coconut, Olive and Avocado provides a creamy soap / shampoo for all hair and skin types.
The soap is handmade in the traditional way and 100% vegan and cruelty free.
Can also be used if you do not have dreadlocks and as body or hand soap.
Our recommendation after washing with soap bars:
Rinse with ACV Herbal Rinse after washing hair with a soap bar.
ACV Herbal Rinse contains apple vinegar that neutralises the scalp, and acts as a natural conditioner and protects the colour of the hair.
Extend the life of your Shampoo bar with our Air Dry Magnetic Soap Saver - Add to cart separately

Simply Calm soap Ingredients:
Cocoa Oil*

Olive Oil*

Sunflower Oil*

Avocado Oil*

Apple Vineger*

Marigold extract*

Camomille extract*

Lavender extract*

Grapefruit extract*

Rosemary extract*

Limonene**

Linalool**

Citral**
* = Organic.  ** = Contained in the flower extract.