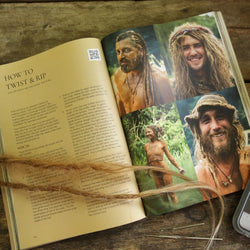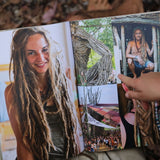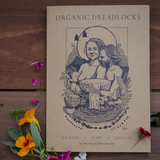 Mountain Dreads
Organic Dreadlocks Book: Journal, Diary, Manual
This incredible book from Organic Dreadlocks contains all the step by step know-how in creating & maintaining beautiful natural dreadlocks.
Along the way it is infused with their story as artists as well as over 500 stunning and inspirational images of people with dreadlocks from all over the world.

Seven years in the making it is visually and informatively one of a kind and contains QR codes that can be scanned to view the corresponding course video for course members.
DREADLOCKING COURSE with 19 course videos - Available here
Learn everything you need to know about dreadlock information, creation, maintenance, repair, structuring the scalp, all varieties of extension, makeovers, unique restructuring techniques, colour blending and more.
By Amy King and Stefan Spescha (Organic Dreadlocks)

What you'll learn

Module 1:
Module 2:

Essential Skills in Dreadlock Creation

Different methods of making dreadlocks

Dreadlock Mapping

Tools of the trade

Preparing the hair for new dreadlocks

Thin vs Thick

Layout at the scalp-sectioning and sizing

Step by step diamond structure

How to twist and rip

How to crochet

The ends

Aftercare & washing
Module 3:
Maintenance

Different methods of maintenance

When to and how often should dreadlocks be maintained?

Meeting and greeting a first time maintenance client

Separating dreadlocks at the scalp

Scalp health and hygiene

How we maintain dreadlocks at the scalp: Two methods

Maintaining the body of the dreadlock

Straightening out shrunken, bunchy, zigzagging dreads
Module 4:
Extensions and Transplants

Our journey with human hair dreadlock extensions & ethical considerations

The basics of our extensions craft and why we do it the 'hard' way

Sourcing hair

Colour matching

Creating a dreadlock extension with human hair

Creating a layered effect and a 'v' shape

Extending already existing dreadlocks or creating new long wispy ends

Extending with pre-existing dreadlocks
Module 5:
Other techniques & offerings

How to join two or more dreadlocks together

Shaved sections

Dreadlock removal / unpicking dreadlocks

Cutting length off dreadlocks

Dreadlock overhaul and restructuring
Module 6:
Customer Care & Self Care

Questions to ask before booking in a new client

Creating a studio environment

Meeting a new customer receiving new dreadlocks or a big transformation

Personal health & safety measures

Supporting your client