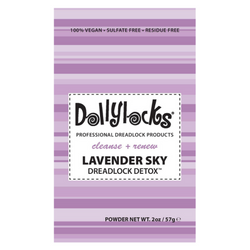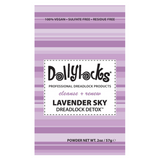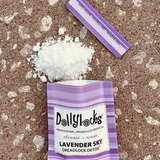 Mountain Dreads
Dollylocks Dreadlock Detox - Lavender Sky
Lavender Sky is a sunny harmony of uplifting lavender, bright citrus, and a hint of cool mint.
Dollylocks Dreadlock Detox™ is a deep cleanse to remove impurities, buildup, and debris. 
2oz (57g) Lavender Sky Detox Powder A specially formulated blend to deep clean
100% Vegan
Sulfate Free
Residue Free
Instructions
To Use: Fill a bucket or Inflatable Basin with 2-3 gallons (10-15 L) of warm water.
Slowly add Detox Powder.
Wait for product to fizz and completely dissolve.
Submerge and soak dreadlocks for 10-20 minutes, using hands to squeeze out impurities, buildup, and debris.
Rinse hair with warm water for at least 5 minutes.
Lavender Sky Detox Powder Ingredients: Sodium Bicarbonate, Citric Acid, Sodium Sesquicarbonate, Maltodextrin, Citrus Aurantifolia (Lime) Oil, Fragrance/Parfum, Acetum, Acetic Acid, Mentha Piperita (Peppermint) Oil, Sodium Starch Octenylsuccinate, Limonene, Linalool, Citral.
Natural constituent of essential oils listed.