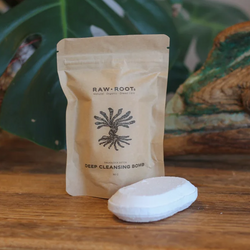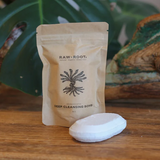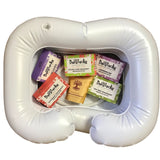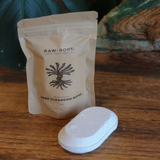 Mountain Dreads
Raw Roots Deep Cleansing Bomb - Dreadlock Detox
New and improved recipe and shape!
Deep clean your dreadlocks and get healthier hair and scalp.
Over time, dirt and product residues can accumulate in the hair, and it can be difficult to clean with shampoo.
This dreadlock detox is specially formulated to remove build-up and residue from products, sweat and dirt in your dreads.
It's a unique blend of natural ingredients that will leave your dreadlocks light, clean and fresh.
We recommend a dreadlock detox every 3-6 months.
Raw Roots Dreadlock Detox contains:
Deep Cleansing bomb consists of baking soda, organic witch hazel, organic apple cider vinegar, organic rosemary oil, organic tea tree and citric acid.
Baking soda, apple cider vinegar and witch hazel extract clean build-up (residues) of shampoo, grease and products from the hair, while tea tree essential oils have antiseptic and anti-fungal properties and rosemary contains antioxidants that can help with dandruff and scalp problems.
The apple cider vinegar also helps close the cuticle layer on the hair shaft and the pH neutralises the hair and scalp.
The hair becomes shiny, soft and dries faster.
How to use Dreadlock Detox:
Fill a tub or inflatable basin with warm water and add the cleaning bomb.
The tub should be large enough for all dreadlocks to be completely submerged in the solution.
When the powder is completely dissolved, submerge the dreadlocks in the tub.
Keep them in the solution for between 10 and 30 minutes.
Then press impurities and build-up out of the hair and wash with shampoo.
Ingredients: Sodium Bicarbonate, Citric Acid, Hamamelis Virginiana Flower (Witch Hazel) Water*, (Appel Cider) Vinegar*, Rosmarinus Officinalis Leaf (Rosemary) Oil*, Melaleuca Alternifolia Leaf (Tea tree) Oil*, Limonen**, linalool**. * Organic ingredient. ** Content of essential oil.