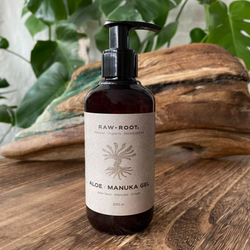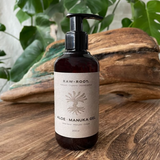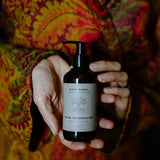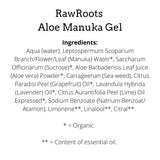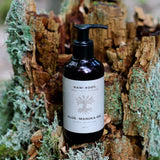 Mountain Dreads
Raw Roots Aloe Manuka Tightening Gel
200ml
Aloe Manuka Gel is luxurious gel for frizzy hair, curl and dreadlocks.

Certified organic aloe vera provides a firm hold and together with Manuka the hair is nourished and kept healthy.
Organic essential oils work antibacterial and provide a fresh smell of sweet lavender and fresh grapefruit.
 Organic Aloe vera is the main ingredient of our Aloe Manuka Gel and its content equals 80%.
Aloe and Manuka relieve itching, helps control dandruff, heal wounds and irritated skin.
(Very good for sunburn and sun eczema)
How to use Aloe Manuka Gel:
After washing and towel-drying, apply a quantity equivalent to a pea between your palms and add to your hair or roll it into your dreadlocks.
Take 1-2 dreadlocks at a time so you are sure it will be distributed evenly.
Let your hair air dry or use a hair dryer on "Low" to not dry out or burn your hair.