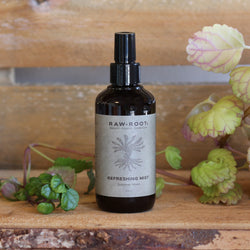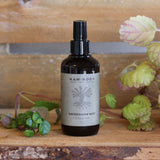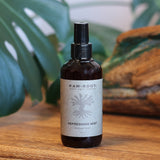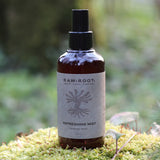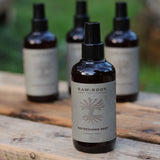 Mountain Dreads
Raw Roots Refreshing Mist | Summer Moon
Raw Roots Refreshing Mist
Summer Moon - The fragrance is sweet, fruity and exotic with a hint of flowers.
 200ml 
Natural and organic ingredients
Refreshes and removes bad odours
Cares and cleans the hair between washes
Suitable for all hair types
100% Recycled plastic bottle
Refreshing Spray and deodoriser for dreadlocks.
Refreshing Mist can be used as a fragrance spray and "in between" hair washes.
Specially developed with a mixture of organic and natural ingredients, cares, refreshes and removes bad smells in dreadlocks.
This powerful deodoriser contains silver citrate that refreshes all hair types by removing odour-causing bacteria immediately on contact.
Also contains a special blend of organic Apple Cider Vinegar, aloe vera and plant protein that restores damaged hair, seals the hair shaft and keeps locks looking fresh longer between washes, all while giving them a light, long-lasting fragrance.
How do I use the Refreshing Mist?
Refreshing Mist can be used on dry hair between hair washes to refresh and add fragrance.
Use it also after washing in damp hair as a natural conditioner, as the apple cider vinegar and wheat protein will soften the hair and close the hair strand so that the hair has an easier time drying and leaves a wonderful fragrance.
Available in 3 other fragrance variants:
Enchanted Forest - Natural scent of organic essential oils of patchouli, cedarwood and sandalwood. Smells like a walk in the deep woods.
Nag Champa -  The scent of the familiar incense.
Paradise Beach -  A fragrance blend that takes the mind to an exotic beach, with the scent of coconut, passion fruit and vanilla.
Ingredients: Aqua, Apple Cider Vinegar*, Hydrolyzed Wheat Protein, Aloe Vera Leaf Extract*, Citric Acid, Silver Citrate, Caprylyl/Capryl Glucoside (vegetable origin), Essential oils (and/or) Parfum, Brassica Oleracea Italica (Broccoli) Seed Oil*. - Organic