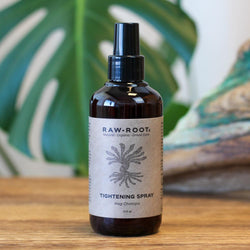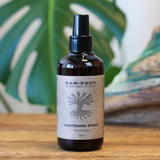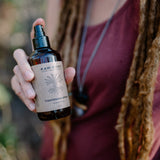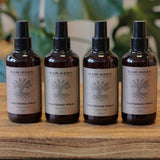 Mountain Dreads
Raw Roots Tightening Spray | Nag Champa
Raw Roots Tightening Spray - Nag Champa
200ml
RAW ROOT's Dreadlock Tightening Spray can be used for making or maintenance of dreadlocks.
It reduces the amount of loose, frizzy hair and tightens and refreshes your dreadlocks with the scent of Naq Champa, a floral, warm and earthy scent like the well-known incense.
Tightening Spray gives texture to the hair so that it feels like after a day by the sea.
The loose flying hairs are tamed and if you need to start making dreadlocks, the hair is in perfect condition to dread.
In addition, RAW ROOT's tightening spray can easily be used just like a regular salt water spray to give hold to the hair, and it also works incredibly well for curls and volume to partial undreaded hair.
Directions for use: (Shake before use)

Spray the dreadlock Tightening Spray on freshly washed hair if you need to make new dreadlocks.
Or spray on the freshly washed dreads. Let the hair dry, or blow dry it with a hair dryer before you start to dread or palm roll if you use it as a maintenance technique.

Note: If the sprayer clogs up, rinse it under warm water.
Ingredients: Aloe Barbadensis Leaf (Aloe Vera) Extract*, Camellia Sinensis Leaf (Green tea) Water*, Heptyl Glucoside (Sugar/Castor Seed Derived), Sodium Clolride (Sea Salt), Hydrolyzed Corn Starch, Urtica Dioca (Nettle) Extract*, Parfume, Sodium Benzoate and Potassium Sorbate (Preservation), Citric Acid. Amyl Cinnamal**, Benzyl Alcohol**, Benzyl Benzoate**, Citral**, Citronellol**, Coumarin**, Geraniol**, Hydroxycitronellal**, Limonene**, Linalool**. * Organic ingredients ** Constituent of fragrance oils listed