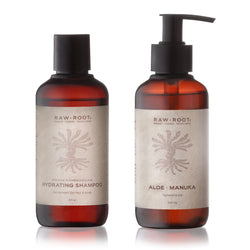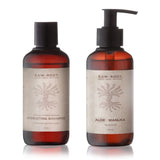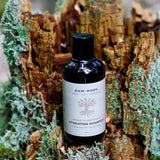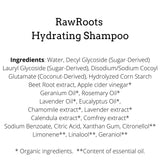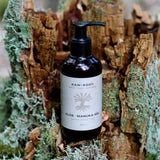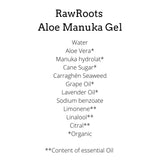 Mountain Dreads
Raw Roots Aloe Manuka Gel + Hydrating Shampoo
RAWROOTs Aloe Manuka Tightening Gel + Hydrating Shampoo Bundle
Aloe Gel 200ml
Hydrating Shampoo 215ml
Aloe Manuka Tightening Gel is luxurious gel for frizzy hair, curl and dreadlocks.
Certified organic aloe vera provides a firm hold and together with Manuka the hair is nourished and kept healthy.
Organic essential oils work antibacterial and provide a fresh smell of sweet lavender and fresh grapefruit.
 Organic Aloe vera is the main ingredient of our Aloe Manuka Gel and its content equals 80%.
Aloe and Manuka relieve itching, helps control dandruff, heal wounds and irritated skin.
RAWROOTs Hydrating Shampoo is based on flower extracts and mild detergents this sulfate free shampoo gently cleanses without drying out the scalp. 
Revives a dry flaky scalp and leave your hair light, strengthened, super soft and with the scent of summer.
 Hydrolysed corn and beet extract is a natural moisture boost and protects colour from fading.
Organic Comfrey, Chamomile, Lavender and Calendula flower soothes, heals and relieve discomfort and itching of the scalp.
The fresh and clean scent of organic essential oils from geranium, lavender, rosemary and eucalyptus works inflammations inhibiting, stimulating and cooling on the scalp.
 How to use Aloe Manuka Gel:
After washing and towel-drying, apply a quantity equivalent to a pea between your palms and add to your hair or roll it into your dreadlocks.
Take 1-2 dreadlocks at a time so you are sure it will be distributed evenly.
Let your hair air dry or use a hair dryer on "Low" to not dry out or burn your hair.