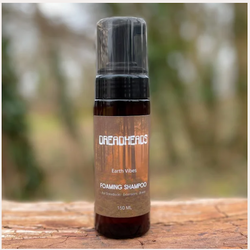 Mountain Dreads
Raw Roots DREADHEADS Foaming Shampoo
 DREADHEADS Foam Shampoo, by Raw Roots and Dreadheadshop
150ml 
Earth Vibes has a wonderful scent of Nag Champa with a hint of myrhh.
Natural Foaming shampoo for dreadlocks, braids and extensions.
Super easy to apply, you apply the foam directly into the scalp and hair.
Concentrated formula, which therefore saves a lot of shampoo as you don't need much.
This foam shampoo is ideal for dreadlocks and braids, as it is easy to apply directly on the scalp and does not need to be foamed or massaged.
Then rinse with water so that your dreads and braids are minimally touched, keeping their shape and firmness to the scalp.

This natural shampoo is made from organically saponified coconut and olive oil. It does not contain chemical and sulphate-filled soaps.