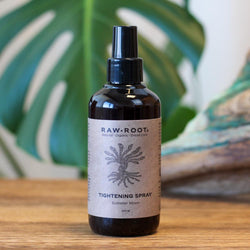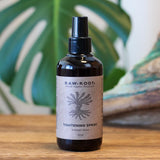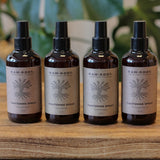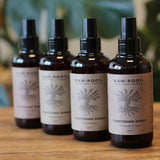 Mountain Dreads
Raw Roots Tightening Spray | Summer Moon
Raw Roots Tightening Spray - Summer Moon
200ml
RAW ROOT's Dreadlock Tightening Spray can be used for making or maintenance of dreadlocks.
Reduces the amount of loose, frizzy hair while tightening and refreshing your dreadlocks with a sweet, fruity and exotic scent with a hint of flowers.
A Dreadlock Tightening Spray of Natural Ingredients
The blend of organic aloe vera and sea salt acts as a natural tightening of loose hair and dreadlocks.
Aloe vera has been used for centuries to tighten dreadlocks, and with its caring properties, it provide moisture and maintains the hair and dreadlocks optimally.
Hydrolysed corn starch is a fantastic volumizer that adds thickness and a firm hold.
Green tea boosts your hair with antioxidants and protect and nourish so that your hair does not suffer damage during the dreadlock process.
This product is water-soluble and residue-free, meaning it will fully wash out when you shampoo your hair. 
Directions for use: (Shake before use)
Spray Tightening Spray on freshly washed or dry hair.
Allow the hair to air dry or blow dry with hairdryer, before styling it.

Note: If the sprayer clogs up, rinse it under warm water.
Ingredients: Aloe Barbadensis Leaf (Aloe Vera) Extract*, Camellia Sinensis Leaf (Green Tea) Water*, Heptyl Glucoside (Sugar/Castor Seed Derived), Sodium Clolride (Sea Salt), Hydrolyzed Corn Starch, Urtica Dioca (Nettle) Extract*, Parfume**, Sodium Benzoate and Potassium Sorbate (Preservation), Citric Acid, Linalool**. * Organic ingredients ** Constituent of fragrances listed
The Tightening Spray is available in 4 variants with different fragrances:
Naq Champa: Flowery, warm and earthy scent as the well known incense.
Enchanted Forest: Like a walk in the deep forest with patchouli, cedarwood and sandalwood essential oils. 
Herbal Breeze: Refreshing and uplifting scent of peppermint, sage, tea tree and cedarwood essential oils.
Summer Moon: Sweet, fruity and exotic with a flowery heart.