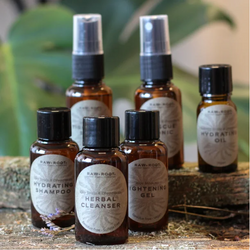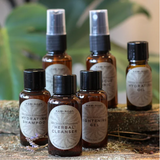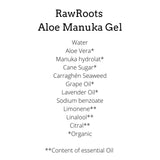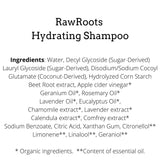 Mountain Dreads
Raw Roots Travel Size Sampler Set of 6
Try 6 of the most popular Raw Roots Dread Care Products in One Pack!
30ml Hydrating Shampoo
30ml Rescue Tonic
30ml Aloe Manuka Gel
30ml Tightening Spray
10 ml Hydrating Oil
All Raw Roots products are free of harmful chemicals. Their products are based exclusively on natural, vegan and pure ingredients.

✿ Hydrating Shampoo - Sulfate free shampoo for dry and sensitive scalp/hair.

⭐️⭐️⭐️⭐️⭐️ "My dreads and scalp have suffered so long with intense dry dandruff flaking and flaking no matter what I do. I never had any scalp problems before getting dreadlocks. I have not had an issue since buying that shampoo. It fixed my scalp ph instantly, I love washing my hair with it. Even my sister who has aggressive scalp psoriasis found relief with this natural shampoo." - Peru L.

✿ Herbal Cleanser - Sulfate free shampoo for normal and oily scalp/hair.

⭐️⭐️⭐️⭐️⭐️ "Used this the other day on my partners dreads and I have to say it is awesome. His dreads looked and felt cleaner and it smells yum too."
✿ Hydrating Oil restores the natural balance of the scalp and relieves and prevents itching, dryness, or flaking scalp and other skin irritations.

⭐️⭐️⭐️⭐️⭐️ "My partner has suffered for years with dry itchy scalp due to his dreads. After just one use he has noticed a difference and the dry itchy scalp is now a thing of the past. For anyone with dreads I would highly recommend this product."- Natasha

✿ Rescue Tonic helps troubled skin and scalp by cooling, soothing, and moisturising exposed areas.
⭐️⭐️⭐️⭐️⭐️  "The spray is really relieving and works perfect for when you have an itchy scalp"

✿ Aloe Manuka Gel is luxurious gel for frizzy hair. It helps to relieve itching, control dandruff, heal wounds and irritated skin.
⭐️⭐️⭐️⭐️⭐️ "My dreads are only 2 months old and starting the journey left my scalp dry and itchy.. using this gel left my scalp hydrated and my dreads feeling amazing!" - Bel

✿ Tightening Spray is a unique blend of organic ingredients that provide moisture, texture and tighten dreadlocks while leaving a great scent in the hair. Dreadlock Tightening Spray is a 'must have' and can be used for the creation or maintenance of dreadlocks.
⭐️⭐️⭐️⭐️⭐️  "Perfect to maintain and tighten my new dreads. It helps to remove all the frizziness."