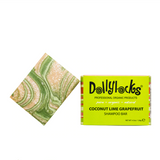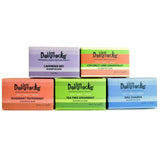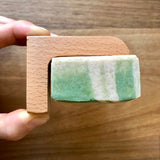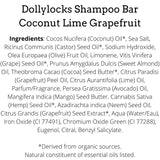 Mountain Dreads
Dollylocks Shampoo Bar | Coconut Lime Grapefruit
Zesty citrus blend | Coconut Lime Grapefruit
4.5oz (127g)

Suitable for Vegans
An invigorating, antioxidant-rich shampoo bar made with plant based ingredients. Coconut, Sea Salt, and Shea Butter help soothe irritation while improving scalp and hair elasticity. Lightweight and residue-free, leaving the scalp refreshed and hair squeaky clean. Provides gentle yet effective cleansing for healthy scalp and hair, with a scent that will awaken and lift your spirits!
To Use: Wet hair and shampoo bar. Work bar into lather, apply bar directly to scalp or use hands to apply lather. Massage into wet scalp. Work shampoo from roots to ends, squeezing dreadlocks. Rinse and repeat as needed.
Also available in Nag Champa, Tea Tree Spearmint, Lavender Sky, Rosemary Peppermint and a Travel size sampler set of 5.
Extend the life of your Shampoo bar with our Air Dry Magnetic Soap Saver

Sold Separately
Made from Beechwood
No more soapy mess around the sink / shower
Easy to install and use (Strong self adhesive strip, no screws required)