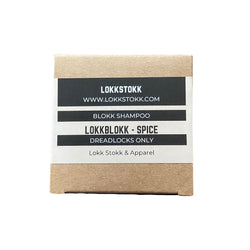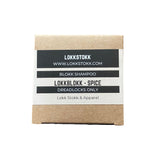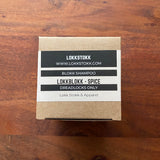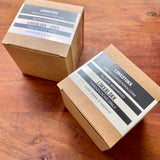 Mountain Dreads
LOKK STOKK Dreadlock Shampoo Bar LOKKBLOKK SPICE
Dreadlock Shampoo Bar - LOKKBLOKK SPICE
125g
Made in Australia
With it's creamy lather and spicy scent, to seduce even the most discerning tastes.
This is for anyone who love the simpler aroma of the spice and citrus scent. This shampoo is also set at the optimal pH that not only cleans but prepares the follicle, allowing the hair the perfect environment to nurture your Dreads.
The LOKKBLOKK- SPICE has the same specially formulated recipe as the LOKKBLOKK, which helps cut down on base and length maintenance, encouraging the hair to felt naturally.
Previously "BLOKE BLOKK" but now LOKKKBLOKK SPICE 
Essentials oils: Orange Valencia, Cinnamon, Aniseed, Clove & Cedarwood.
Cocoa Butter base which is:
Hypo-Allergenic
Non-Comedogenic
Cruelty Free
Soy Free
No SLS or SLES 
Non-GMO
Vegan
Extend the life of your Shampoo bar with our Air Dry Magnetic Soap Saver - Add to cart separately
Also available from LOKKSTOKK is the original LOKKBLOKK