Mountain Dreads
Organic Dreadlocks Shampoo
Organic Dreadlocks Shampoo
New 500ml glass refill bottle with Free Dreadlock Bead
Made in Australia

Suitable for Vegans 
Organic Dreadlocks, offers you a beautifully mild shampoo especially for dreadheads. Uplifts the senses, cleanses and nurtures the scalp, helps reduce dandruff and may repel nits.

It's especially designed for keeping dreads strong, healthy and lustrous and contains no salt or other drying elements that might make the hair brittle. Yet, at the same time it assists the locking process. Its FULL of pure essential oils to nourish and cleanse the scalp and it smells beautifully fresh and uplifting while remaining low residue (so that no oils or other ingredients build up within the dread). 
Ingredients: Aloe barbadensis (Aloe Vera) Leaf Juice*, Backhousia citriodora (Lemon Myrtle) Extract* (and) Ethanol*, Coco Glucoside, Glycerin*, Xanthan Gum, Pelargonium graveolens (Geranium) Oil*, Lavandula angustifolia (Lavender) Oil*, Citrus medica limonum (Lemon) Oil*, Melaleuca alternifolia (Tea Tree) Leaf Oil*, Rosmarinus officinalis (Rosemary) Leaf Oil*, Citric Acid.
* Certified Organic
Customer Reviews
Write a Review
Ask a Question
ABSOLUTELY AMAZING
I love this product so much, I originally brought it for my partners dreads but I decided to use it once and noticed the change in my hair straight away! my hair felt so healthy and looks healthier! It is also the first shampoo I've ever used that doesn't make my hair frizz up once dry, I absolutely love your product and am definitely going to get the conditioner next time we order! 10/10 absolutely love it and I don't think I'll be using anything else from now on!! Thank yous so much
05/10/2022
Daniel C.

New Zealand
Organic Dreadlocks Shampoo
My dreads are only 6 months old atm so very fuzzy. The shampoo seems to have helped dull the fuzz a bit, also smells great and stays smelling of the shampoo for days after !.its nice knowing your putting natural product through your hair aswell.. definitely be purchasing more.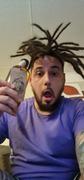 03/25/2022
David O.

United States
Best shampoo I've used!
Firstly, I love the smell it leaves my hair with. It gives my scalp a refreshing feel to it once I have finished with washing it. Secondly, I love the ingredients used to make this shampoo. I would recommend this to anyone that is looking for a better alternative to the standard store bought shampoo's.
02/08/2022
Meghan W.

United States
Organic Dreadlocks Shampoo
I absolutely love the shampoo! Great lather! (I was skeptical) Smells really good and "clean". I've been using it as my face soap too!! Really happy with the product overall!
11/26/2021
Puteri F.

Australia
Shampoo dread
They smell so good im swearrr !! I feel relax and fell my scalp all clean