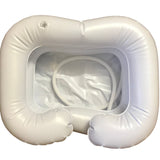 Mountain Dreads
Dreadlock Detox Bundle with Raw Roots
Complete Detox Bundle with Raw Roots
Save 5%
Bundle includes 4 products to make your dreadlock detox easy and enjoyable:
Inflatable basin - makes it easy to soak and detox your dreads. 
Fully inflated basin measures 60cm x 50cm x 20cm
Raw Roots Detox Bomb - deep clean your dreadlocks and get healthier hair and scalp. 
This dreadlock detox is specially formulated to remove build-up and residue from products, sweat and dirt in your dreads.
215ml Raw Roots Hydrating Shampoo - sulfate free shampoo for dry and sensitive scalp/hair. - relieves a dry and itchy scalp!
RAW ROOTs Organic Hydrating Shampoo is made from plant extracts that restore the natural moisture balance of the dreadlocks and scalp. 
Based on flower extracts and mild detergents this sulfate free shampoo gently cleanses without drying out the scalp. 

Revives a dry flaky scalp and leaves your hair light, strengthened, super soft and with the scent of summer.